---
"Childhood Memories", Right Here!
KINHANK'S latest retro video game console super console x cube has built-in 50000+ classic retro games and 50+ emulators, which can perfectly run PS1 /PSP /N64 /DC /NDS /MAME etc. Supports saving game progress, supports adding games by yourself, and finding your childhood Memory, game clearance, no longer difficult!
Owning it is equivalent to owning multiple retro game consoles
Game List
Copy the link to the browser to download the game lists:
•64G game list(Built-in 33000+ games):https://bit.ly/3tni1dz
•128G game list (Built-in 41000+ games):https://bit.ly/2OA6g4V
•256G game list (Built-in 50000+ games): https://bit.ly/3llKWfB
Why choose this game console?
✔Multiple Game Formats: supports 50+ emulators, Perfectly for PS1/PSP/N64/DC/MAME, etc, the system feels fluid, smooth, and snappy. built-in 50000+classic retro games support you to add games by yourself.

✔Support HDMI-compatible and AV output, output pixels 1280/720 pixels. Support multi-device connection can be connected to display screens, projectors, TVs, and other equipment, the large screen is clearer.

✔Equipped with an upgraded S905 chip, this chip is more powerful than RK3326, with a 4-core ARM Cortex-A53 CPU, a 5-core Mali-450 graphics processor, and supports 4K @ 60fps video hard decoding and HDR processing.

✔Support multi-language easy switching. Support 20+ languages including English, Chinese, Japanese, Spanish, Korean, Russian, Portuguese, etc.

✔Built in 4 USB interfaces, Support up to 5 people to play at the same time. Bring childhood fun and gaming experience to users

✔Support Downloading Games By Yourself: If you have other more interesting games, you can download the file online and copy it to the memory card
50+Emulators, Perfectly for PS1 /PSP /N64 /DC /MAME, etc
With an upgraded S905 CPU chip, the console is built-in more than 50+ Emulators, compatible for PS1 /PSP /N64 /DC /MAME /MD/GBC /GBA /SFC, etc, which you can download and save at its Memory Card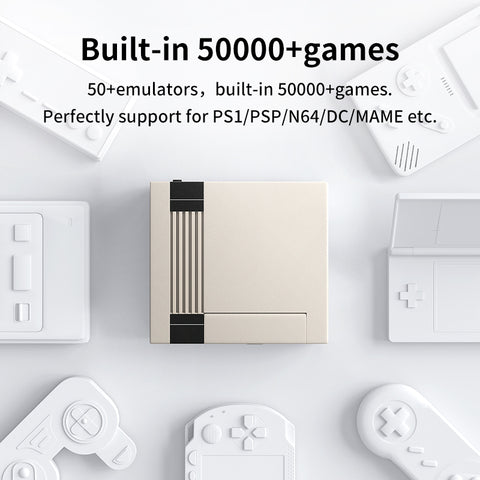 Built-in 50000+ Classic Retro Games, Plug and Play
We have SD cards with three specifications of 64G/128G/256G, with 33000/41000/50000+ retro classic games respectively. Built-in 50+ emulators, support for PS1/PSP/N64/DC/MAME, etc, massive games will take you to relive your childhood.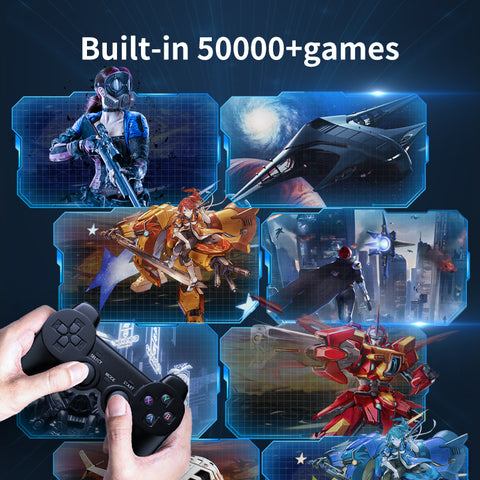 Remember the constant challenge to beat the game?
Super console x cube supports game storage/pause function, so there is no difficulty in passing games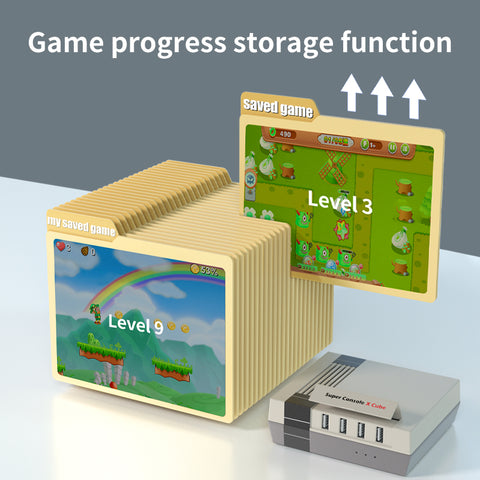 Upgrade S905 Chip
Equipped with an upgrade S905 chip, this chip is more powerful than RK3326, with a 64-bit 4-core Mail-450 graphics processor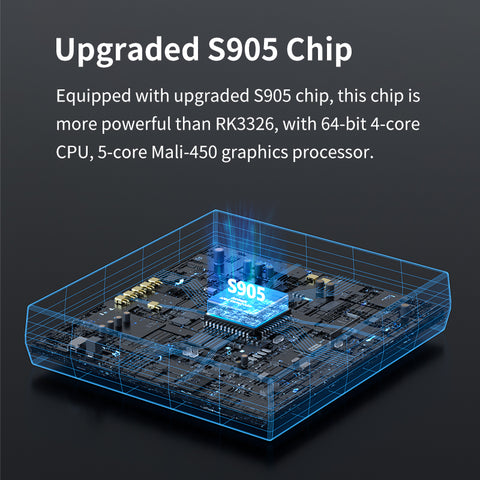 With 4 USB ports, support up to 4 players games at the same time
KINHANK'S newest video game console Super Console X Cube has four 2.0 USB ports, Supports four people to play online at the same time, Relive "childhood memories" and enjoy "classic retro games" with family and friends.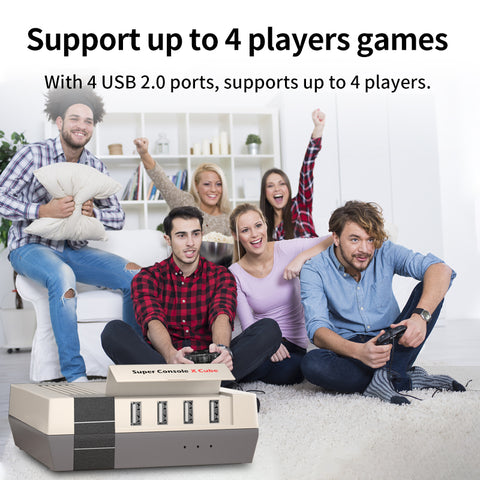 Support HD output
This retro game console is connected by HD cable, you can use it on TVs, computers, projectors, and other devices with HD interface, no need to connect to the Internet, plug and play, easy to use. 4K HD display, enjoy the fun of the game with family and friends.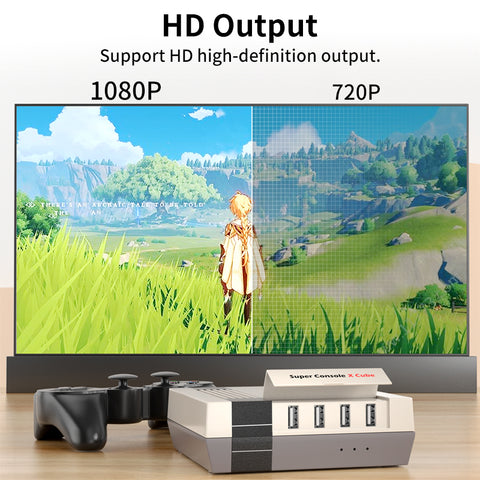 Multi-device connection
super console x cube can be connect to various devices, such as monitor /projectors / TV and other devices with HDMI-Compatible input,the big screen is more clearer.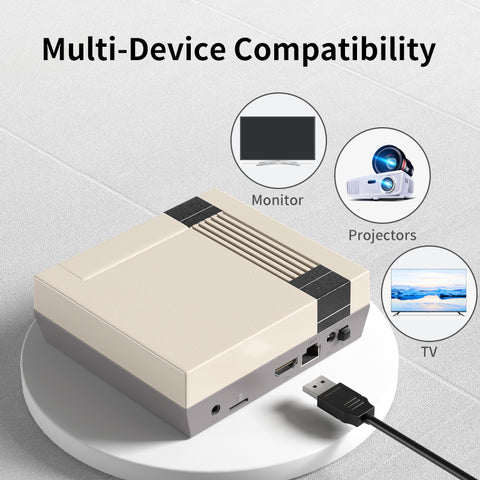 Strong heat dissipation performance
Super console x cube with large internal heat sink, the large heat sink built-in machine makes the heat dissipation more even.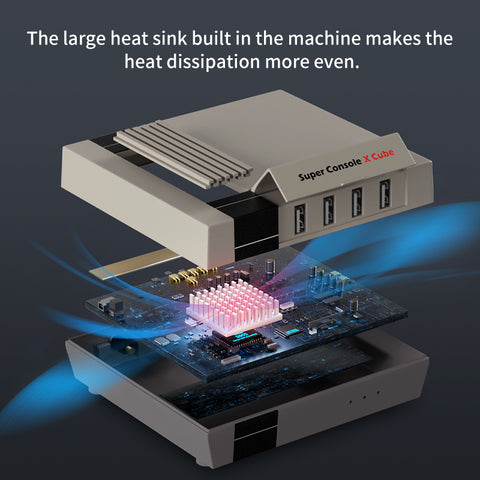 Available in Multiple Languages
The new and upgraded retro console is available to global gamers, supports 26 local languages switching, including English, French, Japanese, Spanish, Korean, and more.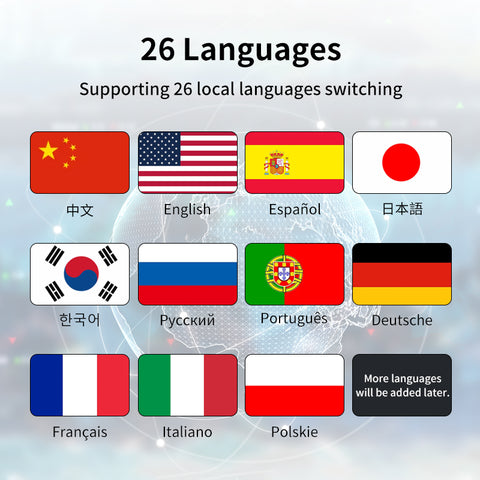 2.4GHz wireless controller
Equipped with two 2.4Ghz wireless game controllers. the connection distance of the controller is 8-10 meters. Support up to 5 players at the same time, you can remotely control and enjoy the game on the sofa with your family or friends.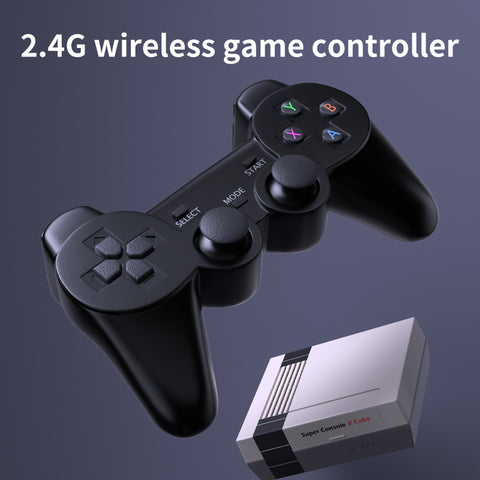 Mini size, Rich interface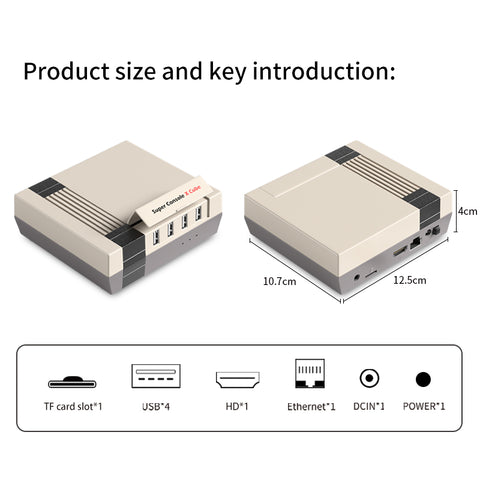 What's in the box?
super console x cube *1
controller *2/4
TF Card* 1(64G/128G/256G)
HD Cable* 1
Power Adapter* 1(EU/US/UK/AU)
User Manual* 1